Koert Simeon Delmonte (1913-1982)
Koert Delmonte was born on 15th April, 1913 in Amsterdam, the Netherlands, as Simeon Delmonte into a Sephardic Jewish family. He adopted the name 'Koert' in his teens. After his parents separated in 1925, Koert, only 12 years old, was taken into the care of a relative of his father's, Judge Nochem de Beneditty and his wife, Esther. His sister Evelyn was taken in by another family. As a young boy, during class, Koert secretly made drawings of his teacher and classmates and his talent was recognised early on. However, no special guidance was given and he quietly continued to develop his own particular vision.
The Early Years
After primary and secondary school Koert worked for some time as a clerk with the chemical firm Polak and Schwarz but soon knew he was not cut out for that kind of work. His heart was in drawing and painting. In 1932, he started attending evening classes at the Amsterdam Academie voor Beeldende Kunsten (Academy for Visual Arts), with a view to making painting his career. Koert moved to Maastricht, the Netherlands, in 1935 at the invitation of the Dutch court portrait painter, Harry Koolen, to work in his studio. He meanwhile attended the Kunstnijverheidsschool (Art College) in Maastricht. Subsequently he was awarded a scholarship to the Brussels Academie voor Schone Kunsten (Academie des Beaux Arts), Belgium, specialising in landscape and portrait painting. His teacher was Alfred Bastien, a noted Belgian artist.
Koert returned to Amsterdam in 1936, aged 23, living in Badhoevedorp with Thérèse Joachimsthal, whom he married the same year. She was also an artist and later, together with a friend, had her own design office. Koert and Thérèse had two daughters. Marijke was born in Amsterdam in 1938 and Saskia in Blaricum in 1942. Koert held his first one-man show in 1936, at the gallery De Ronde Brug, Amsterdam.
Koert Delmonte at work in 1939. A portrait of Abraham Emanuel Joachimsthal.
The War Years
Koert was now painting full-time, secured portrait commissions and sold some of his paintings. He became a member of De Onafhankelijken (The Independents) and in the autumn of 1940 showed portraits and still lifes at their exhibition and had write-ups in newspapers such as 'De Telegraaf', 'Het Handelsblad' and 'Het Volk'.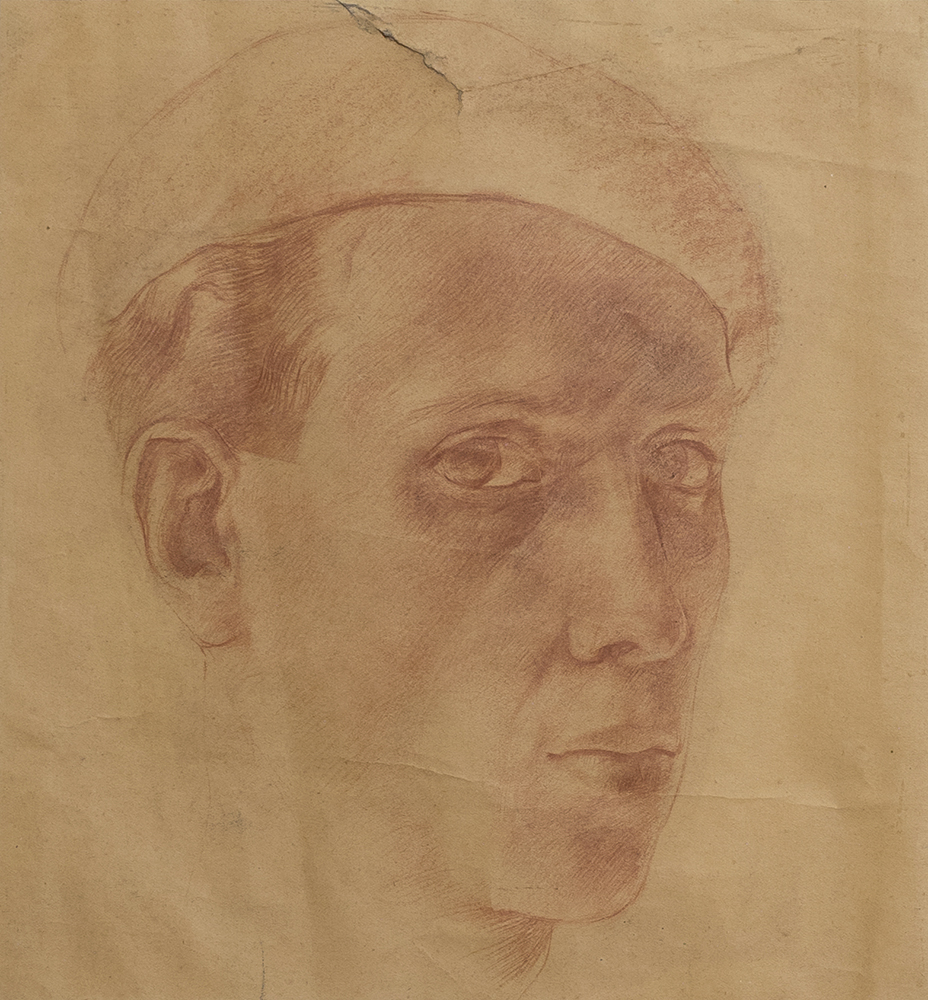 The German occupation brought a complete change of life in the Netherlands, and the position of the Jews became increasingly dangerous. Koert had to go into hiding with his wife and children from 1941 to 1945. They moved to the garden house of Aart and Johanna (Johtje) Vos in Laren. The two young girls had to leave Laren and go into hiding separately: Saskia in Beverwijk, Marijke a year later in Lochem. They were separated from their parents for 4 years.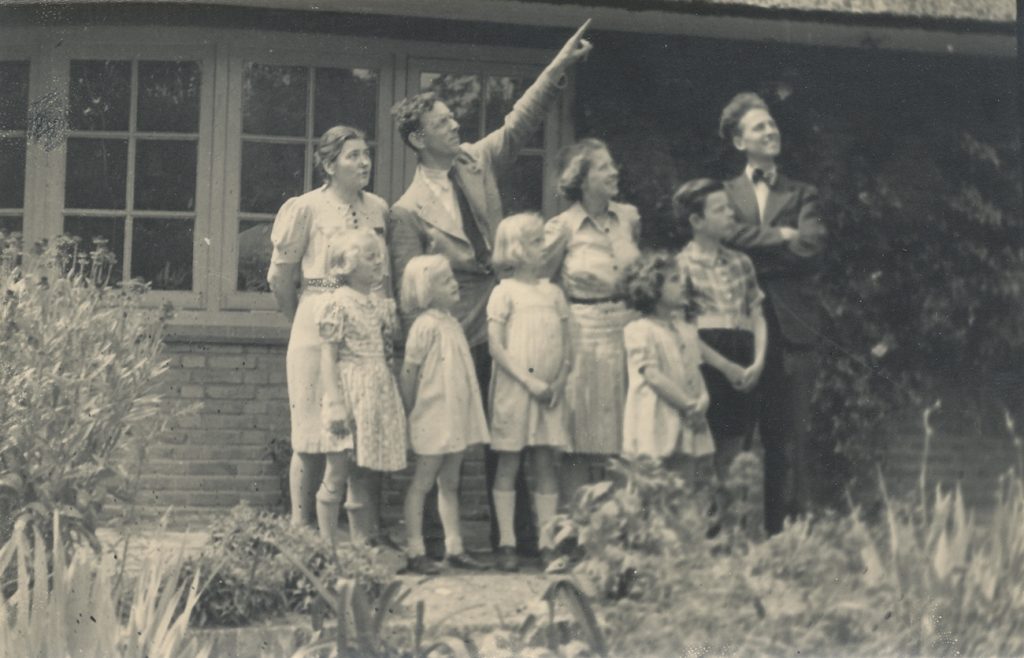 While in hiding Koert worked for the Dutch resistance to the Nazi occupation. He concentrated on making false documents, passports and ration cards for the many people in hiding. The SS attempted to track him down, but never succeeded, as he was constantly on the run, moving from one safe house to another. After the war, he was one of the artists featured in the exhibition 'Kunst in Vrijheid' (Art in Freedom) in the prestigious Amsterdam Rijksmuseum. On this occasion, the Dutch State awarded him the Gerrit van der Veen Medal for his work in the underground movement.
Koert's father, Salomon Jacob Delmonte, was deported to the Auschwitz Concentration Camp in Poland, where he was murdered in 1942. The de Benedittys too were taken from their home and, like most members of Salomon's family, ended their lives in Nazi concentration camps.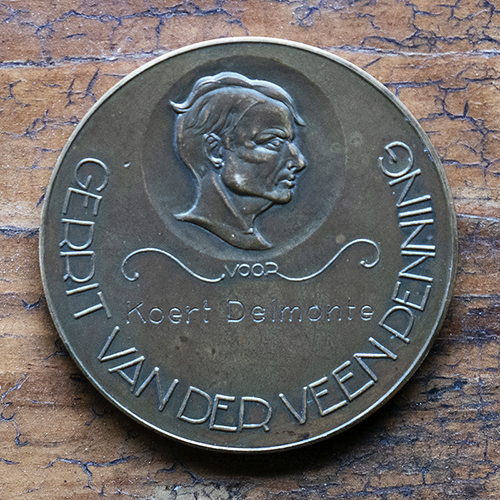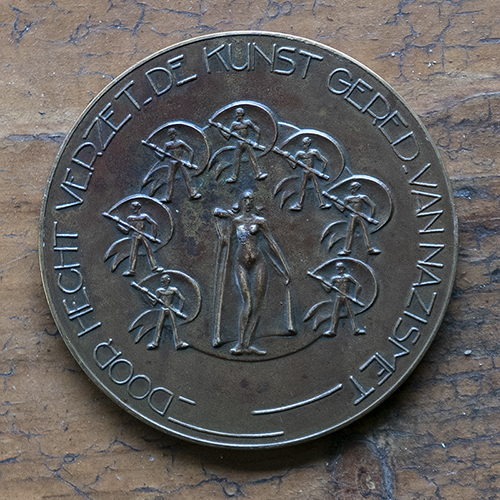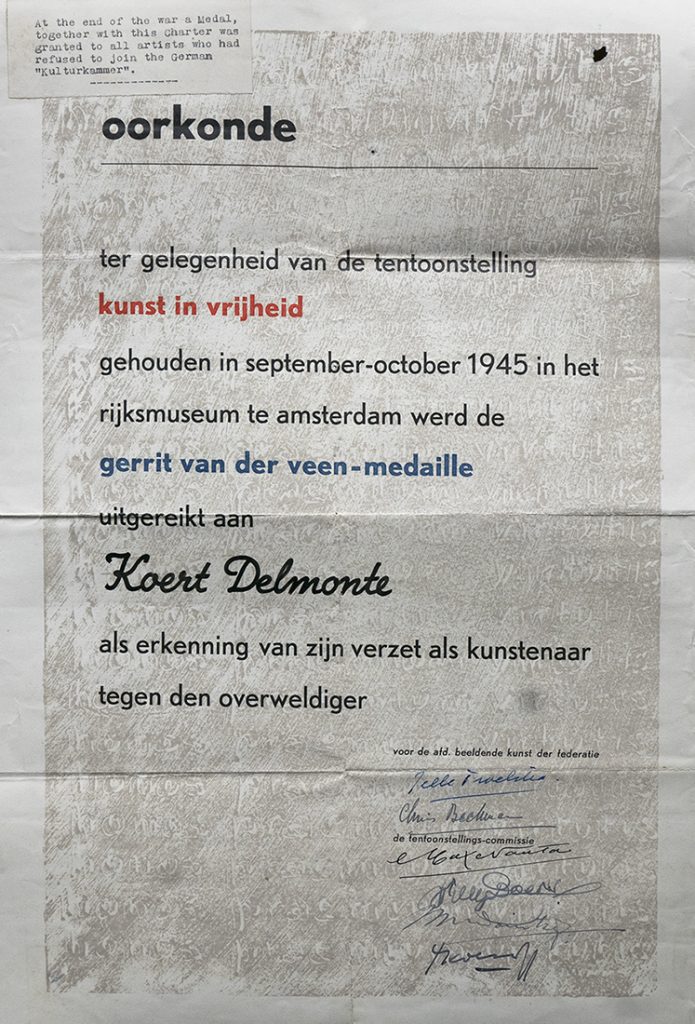 Post War Years
The war took its toll on the marriage of Koert and Thérèse, and the couple divorced soon after the war. Koert packed his bags, took his easel, paints and brushes and went on a long trip through Belgium, France, Switzerland, Italy and Spain producing some of his finest paintings and drawings. He immersed himself completely into the world of art, especially in painting, sculpture and architecture. It greatly influenced his work. He supported himself by selling some of his paintings but was able to live on a shoe-string. His life had now found a definite direction. 'I have to find truth through painting', he stated. It never was an easy life, but it was a life with direction.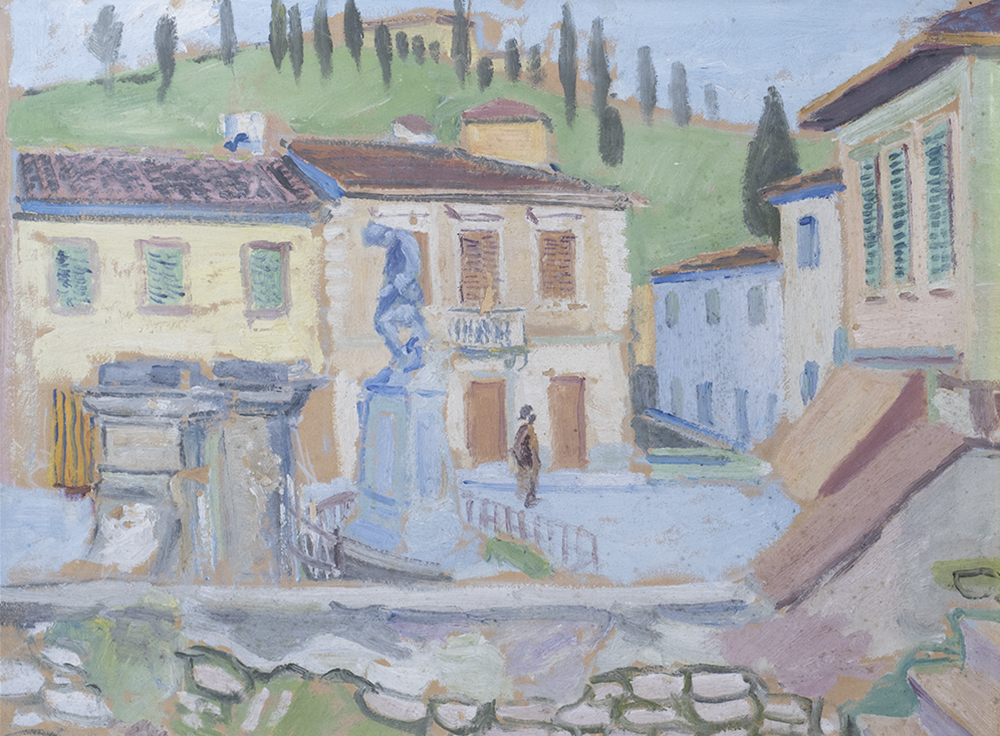 Back in the Netherlands in 1947, Koert married Cornelia Maria van Ree, a singer, who had a daughter Tessa, from a previous marriage. The couple lived in Laren, but the marriage was short-lived and ended in 1948. As a member of the Confederation of Dutch Artists, Koert was now well integrated in the Laren artist colony. He took part in several shows in Laren and Amersfoort
Following the end of his second marriage, Koert decided to move to London. Koert's mother Nanetha and his sister Evelyn had been living safely in England during the war and went on to spend the rest of their lives there. Koert occasionally went to visit them and made friends in London. Partly through his mother's connections he obtained commissions for portraits and sold some of his paintings. He became familiar with the London art world and produced a great number of paintings and drawings of London and other parts of England. His paintings were exhibited at the Wildenstein and Redfern Galleries. Koert also made beautiful posters for British Rail. A critic of the Manchester Guardian had this to say about Koert's paintings at the Wildenstein Gallery in London:
"A much gayer colourist is Koert Delmonte, who finds London a much brighter town than most artists do. His St. Paul's has a rather continental look, but it is nevertheless unmistakably St. Paul's. He is an artist of great promise".
Ireland
Koert, now well established in the London art world, began to pay visits to Dublin and became familiar with the art circles there. Koert liked Ireland because he could still work freely there in the open. On one occasion he was introduced to Niesje Catharina Maas, a Dutch woman who was working for her Opthalmic Nursing Diploma at the Royal Victoria Eye and Ear Hospital in Dublin. They continued their friendship and got married in 1953. They settled in Dublin. Niesje already had two children, Doris (Doretta, born in 1946) and Michele (Michelo, born in 1947). Diarmuid Sebastian, son of Koert and Niesje was born in London in 1954. ('Bas' died in Dhunche in 1984, aged 30, while working in Nepal.)
Koert obtained commissions for portraits and made paintings and drawings of Dublin and its surroundings. His drawings of hotels, shops, factories and houses led to commissions and the printing of postcards, Christmas cards, and greeting cards, including stationary for both personal and business use. He attended the Wexford Opera Festival 1956, producing many fine drawings which appeared in Irish and British newspapers and magazines.
During the 1960s and 1970s Koert taught Art Appreciation and Painting in the garden mews studio of his house in Monkstown near Dublin. In 1973 he started teaching Painting in Dun Laoghaire School of Art. He was the chief organiser and co-exhibitor of the 'Dutch Contemporary Art in Ireland' exhibition at the Municipal Gallery of Modern Art, Dublin. He was a regular exhibitor at the Royal Ulster Academy of Arts.
In the following decades Koert took part in several exhibitions in and around Dublin, and later in Ballylusk Ashford, County Wicklow, where the family owned a second home. He also had a teaching position at the College for Marketing and Design (now known as the Dublin Institute of Technology).
Last Years
In 1974 Koert was diagnosed with lymphocytic leukaemia. He received treatment, but the leukaemia returned in 1981. His daughter Saskia died tragically that same year, aged 39, while working in Dakka, Bangladesh. In spite of Koert's health having deteriorated and his voice being weak he continued to teach at the college. He had to spend much time in Mercer's Hospital, Dublin, where, when he felt well enough, would write down his thoughts on art, his war years and the meaning of life.
On 11th august 1982 Koert died peacefully at home in Ballylusk, County Wicklow.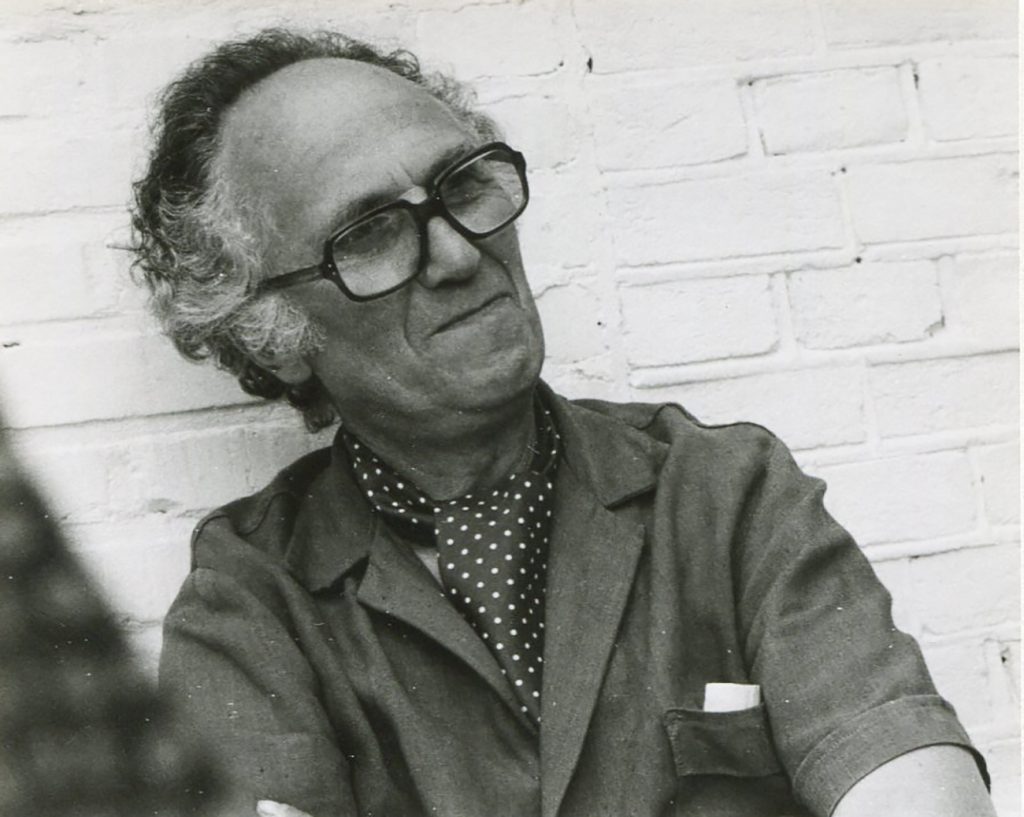 If you are interested in a more detailed story about Koert, you can read the attached book "The Life and Work of Koert Delmonte" online.